With my first book coming out next month, my "self-published" first book, I can't help think about the first successful self-published book I read. Not only did I read the damn thing, but I also wrote a review on it for The Regular Joe, a published-once-a-month newspaper out of Missoula, MT.
I was living in Missoula, at the time, & TRJ was my first steady paid-to-write gig. I could write pretty much whatever I wanted, as long as it had something to do with Missoula. And it had to POSITIVE. A hard thing to do. Journalistically. And, for the Cynic that I was, a personal challenge I was willing to take on. It was words for money.
My dream job!
The first piece I submitted to the paper, ironically, was a Book Review on Charles Bukowski's More Notes of a Dirty Old Man: The Uncollected Columns, published that month by City Lights. That was in 2011. And that review had NOTHING to do with the city of Missoula.
(A Little Side Note: the first column Bukowski ever turned into Editor/Publisher John Bryan, founder of Open City, an underground, Los Angeles weekly newspaper that ran from May 6, 1967, to April 1969, was a Book Review on the latest biography on Ernest Hemingway.)
All my copy had to be about positive things going on in the community of Missoula. The only exception was Book Reviews. And I had to remind him: the first check he ever put in my hand was over a review.
After reading P. K. Rossetti's novel, Dead Writers, I KNEW I had to write about it. I also could not help the fascination I had in knowing this was a self-published work. Fascinating because it became Amazon.com's #1 seller.
Looking through my Photos on Facebook, knowing I saved all of my articles & reviews from that time, I found the review. "Dead Writers Resurrected, Abundant With Life," by Leland Locke. The Regular Joe, Staff Writer.
I thought I would share it with you, Dear Readers.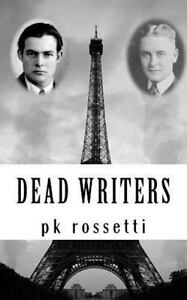 Nine years before Woody Allen's successful 2011 film, Midnight in Paris, P. K. Rossetti's Dead Writers manuscript was completed, later to be self-published.
Released by CreateSpace on February 6, 2012. By February 13th, Dead Writers broke Amazon.com's one-week sales record of a new publication by 40%.
As estranged, damaged, covetous, and DEAD as some of the characters may be, P. K. Rossetti accomplishes the extraordinary – though not impossible – task of making the reader care for (and about) strange events and unappealing characters. Even if Rossetti's prose doesn't cause readers to like his manufactured personalities, readers will develop a morbid fascination to know how the tale is wrapped up.
Dead Writers is a modern-day Forgotten Generation tale, if you will, focusing on the embarrassing, often pathetic, misadventures of an American lost in his own personal hell. An aspiring writer, separated from the other scribblers and their model girlfriends, cynical and alcoholic (of course,) but, after his first otherworldly visit by Ernest "Papa" Hemingway (F. Scott Fitzgerald arrives a few nights later) our American delinquent and protagonist, Quincy Rollins, finds himself a support group to encourage his exasperating existence.
Hemingway pushes it too far. Debauched gatherings of the dead and dying troublemakers that plague and take over dear Quincy's life.
Prepare for a cast of Eastern terrorists, homosexual man-whores assaulted over Hemingway's urgency for Quincy to set the sexual preference record straight, suicidal poodles jumping from an apartment house, everyone secretly screwing their friends' boyfriends and girlfriends, Fitzgerald scotch-drunk and weeping in a corner of Quincy's apartment over being to "foofy" with his writing, and all the while loveable, damaged Q is attempting to put words on pages for a novel. A novel that is targeted for abduction to be plagiarized – by Quincy's own best friend!
All this turmoil is included with a side-dish of vicious, blood-sucking crab louse stowaways being transferred from one character to another.
Enjoy.